Today we had a lunch time BBQ in the sunshine of Tahoe with Jon and Kathryn.
This is a ski resort at 6000 feet but it was still warm enough for al fresco dining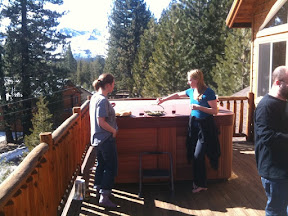 Tonight we are camping in the car park at Horizon casino. They allow overnight car parking for free. Good value
Tomorrow we're heading for Mono lake in Nevada before the snow comes to Tahoe and makes driving difficult.
- Posted from my phone
Location:Hwy 50,Stateline,United States